The Y Factor aims to work in an empowering way with young people. It also sets out to collaborate with experts in the education and youth work sectors.
We would really like to hear from interested teachers, principals, teachers' associations and teacher training institutions who would either like to contribute to The Y Factor or to learn more about our work.
If this is of interest to you, please contact us on 01- 6790100 or email lauram@nwci.ie.
The Y Factor undertook a pilot project in a variety of schools across Ireland with the objective of developing a module, and a set of resources, that can be used to facilitate discussion and learning on gender equality within the classroom. As a result of the learning gained from this pilot we have produced a toolkit supporting practitioners to work with young people on issues related to gender equality. Please see below our toolkit 'Through The Looking Glass: A Guide to Empowering Young People to Become Advocates for Gender Equality'.
For further training on this and other programmes please contact us.
Download the 'Through the Looking Glass' Toolkit here'.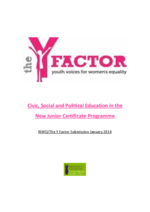 Click here to see The Y Factor's submission to the NCCA highlighting the importance of including gender on the Junior Cycle Curriculum.